​
PLEASE HELP US SPREAD THE WORD!
Maybe Someday by Colleen Hoover is ON SALE for a limited time!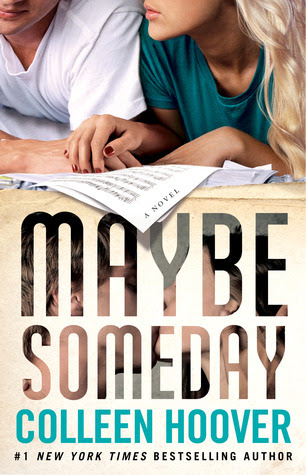 At twenty-two years old, aspiring musician Sydney Blake has a great life: She's in college, working a steady job, in love with her wonderful boyfriend, Hunter, and rooming with her good friend, Tori. But everything changes when she discovers Hunter cheating on her with Tori—and she is left trying to decide what to do next.

Sydney becomes captivated by her mysterious neighbor, Ridge Lawson. She can't take her eyes off him or stop listening to the daily guitar playing he does out on his balcony. She can feel the harmony and vibrations in his music. And there's something about Sydney that Ridge can't ignore, either: He seems to have finally found his muse. When their inevitable encounter happens, they soon find themselves needing each other in more ways than one…
About the Author:
Colleen Hoover is the author of five New York Timesbestselling novels. Her first series was published in 2012 and includes Slammed, Point of Retreat, and This Girl. Her second series, published in 2013, includes the #1 NYT's bestseller Hopeless and the companion novel, Losing Hope. She has released a free novella, Finding Cinderella, as a thank you to her readers for their continued support. The novella is a companion to her Hopeless series, but can be read as a standalone.
Colleen lives in East Texas with her husband, their three boys, their dog, Pacey, and their zombie, Steve. Colleen loves Diet Pepsi more than all of the things, and is a ninja in her spare time.
You can follow Colleen on Instagram if you want to watch her pointless, random videos, or on Twitter, but she rarely tweets anything worth following. You can also find her on her blog at
colleenhoover.com
or on her very active Facebook page where she loves to give away free stuff when her husband isn't looking.
Griffin Peterson is a songwriter and artist living in Nashville. He graduated from Belmont University with a degree in Music Business and is concentrating on releasing his first EP. His first two singles, Makes Me Hold On To You and Getaway, released in July 2013 and will be featured on his EP entitled Getaway. He appeared on the 12th season of American Idol and was the cover model for Colleen Hoover's novel, Losing Hope.
Griffin first realized he wanted to be a musician when he was 19 and sat down at the computer to produce his first song. He realized an entire day had gone by, and decided if he could make a living doing something that brought him that much joy on a daily basis, he didn't want to do anything else with his life. Griffin's musical influences include classic rock and blues such as Stevie ray Vaughn and Eric Clapton, and modern artists such as Ben Rector, One Republic, and John Mayer.