Join us in celebrating the release of SWEET by Tammara Webber! Check out the excerpt and teasers below!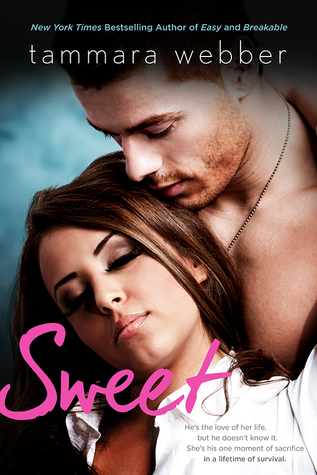 SWEET (Contours of the Heart #3) by Tammara Webber
NA Contemporary Romance
Blurb:
He's the love of her life, but he doesn't know it.
She's his one moment of sacrifice in a lifetime of survival.
He was damaged and wild, but resilient.
She's always been obedient. Now she's restless.
Home for the summer between college and med school, Pearl Torres Frank knows two things: Boyce Wynn is the embodiment of everything she should run from, and everything she wants to run to. Rebellious and loud. Unconcerned with society's opinion of him. Passionate. Strong. Dangerous.
And one more trait he hides from everyone but her:
Sweet
.
Of all the possible scenarios I'd imagined for this summer, living in a trailer with Boyce Wynn hadn't been one of them. A trailer that at the moment contained one bed. "I guess I'll just sleep—"
"In my bed."
The hand gesturing toward the living room froze midair. I've heard people say My heart stopped—which of course isn't possible unless you've just died—but I now understood where the perception might originate. "Uh."
"I'll take the sofa," he said.
Embarrassment washed over me. He wasn't propositioning me. He was being courteous. I lowered my hand, half-convinced I'd fallen into an alternate universe where my mother kicked me out of the house and Boyce Wynn was proper. "You don't have to do that."
Or not.
About the Author:
New York Times and USA Today bestselling author of EASY and BREAKABLE (Contours of the Heart series - NA), as well BETWEEN THE LINES, WHERE YOU ARE, GOOD FOR YOU and HERE WITHOUT YOU (Between the Lines series - YA/NA).
I'm a hopeful romantic who adores novels with happy endings, because there are enough sad endings in real life. Before writing full-time, I was an undergraduate academic advisor, economics tutor, planetarium office manager, radiology call center rep, and the palest person to ever work at a tanning salon. I married my high school sweetheart, and I'm Mom to three adult kids and four very immature cats.
website:
Source: eARC for Honest Review Courtesy of Author and Wordsmith Publicity
Genre: NA Contemporary Romance
Part 3 in a series but can be read as a standalone
My Sweet Review ...
I'm always a big fan of Tammara Webber and think she's the cat's ass when it comes to NA. I loved the other two books in the Contour of the Heart series so I couldn't wait for this one and see how good ol' Boyce fairs in love.
Boyce has had nothing but shit luck in his young years, but what he does have, is one shining moment. The moment he saves little Pearl's life.
Pearl has overcome a lot with the help of her mother. So the last thing she wants is to disappoint her. But she's having a hard time following her dreams when they don't match her mother's.
"When are you going to stop being afraid to live your life, Pearl?"
Pearl is trying to make her own but the one constant she has, is her friend Boyce. Because Boyce saved her life they have a special bond but that's not all they share.
"But sometimes what seems like a gut feeling is just pride pretending to be instinct."

Boyce and Pearl want the same thing but they both keep assuming which leads to miscommunication and heartache. But it's easier to assume then think you deserve happiness. Especially when you never have truly had it.
"Love you? Oh hell yeah. When I pulled you out of that ocean, you woke up and stared up at me like I was worth something. I fell for you right then and there. You're the only woman I've ever loved, Pearl. It's you for me or no one."
Once Boyce and Pearl get on the same page their love is sweet. Finally two great people can get what they deserve, love and happiness. It was just a bumpy road getting there.
"Take what you want from me then. It's been yours all along."
I did quite like the book but at times angsty miscommunication drives me batty when a whole bunch of heartache could have been prevented when there wasn't assumptions and miscommunications. I'm such a sucker for books about second chances, hope and friends to lovers and Sweet fit the bill.
3.5 Very Sweet thumbs up1
. 5
Lauren